The world's most environmentally friendly countries in 2019
When it comes to environmental sustainability, there are clear winners and losers. Can you even name the world's most sustainable countries off the top of your head? Read how the world's greenest countries came out on top and what they can still do to improve their environmental reputation. You may be surprised to see who's number one!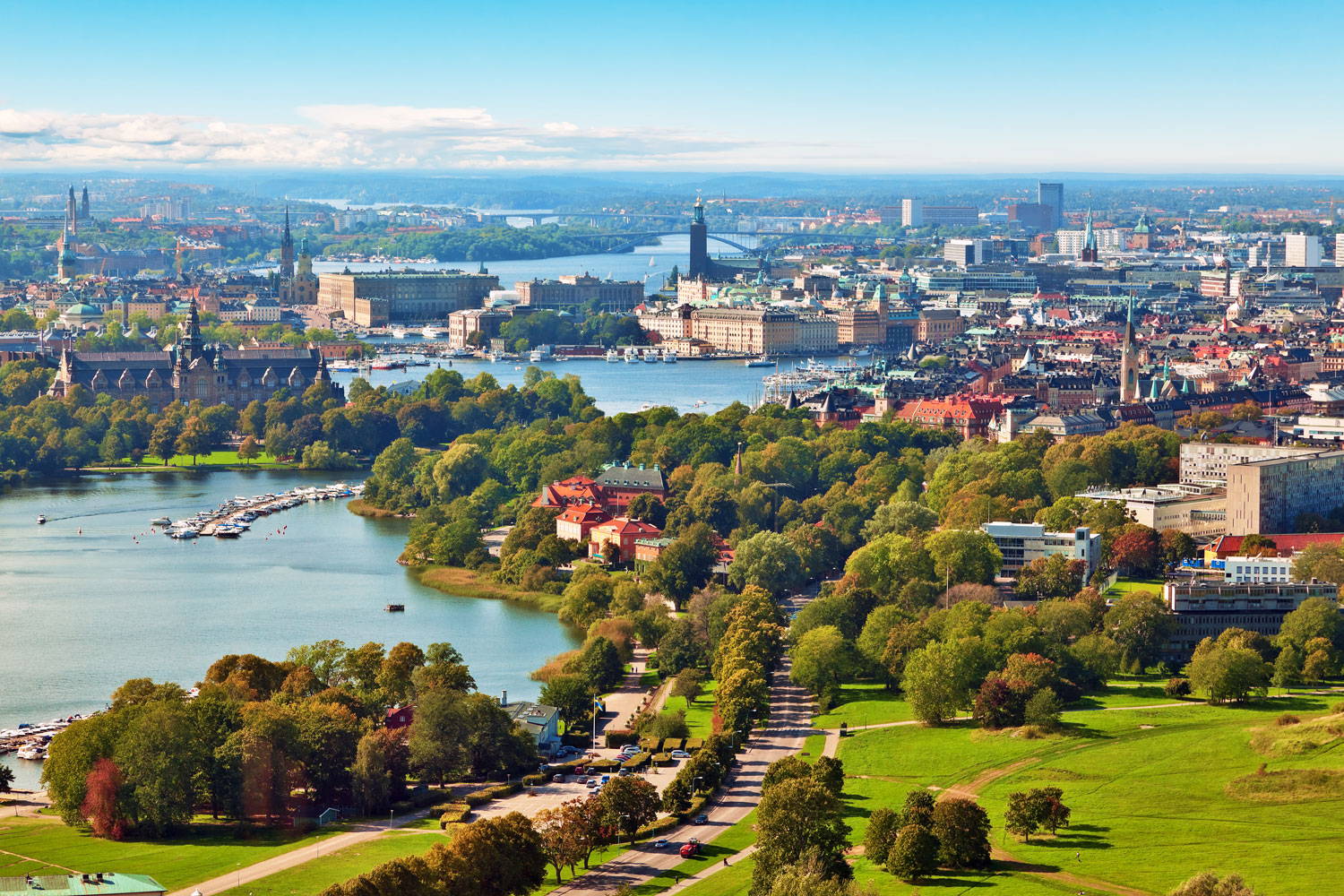 HOW ARE COUNTRIES RANKED FOR ENVIRONMENTAL SUSTAINABILITY?
Around the world, people face numerous environmental risks such as climate change and air pollution. When countries put policies in place to address these issues, they deserve recognition. That's why the Environmental Performance Index was created in 2006.
ENVIRONMENTAL PERFORMANCE INDEX (EPI)
Every two years, the EPI determines which countries around the world have made and kept policies that safeguard our environment and ecosystems. In its most recent report from 2018, it ranked 180 countries using 24 performance metrics that fall under ten different issues. In a partnership with the World Economic Forum, Yale University and Columbia University track, compile and report the data for the EPI.
RANKING FACTORS AND CATEGORIES
By focusing on target categories, the EPI recognizes the environmental issues that most impact health and sustainability worldwide. In 2018, the ten issue categories included air quality, water and sanitation, heavy metals, biodiversity and habitat, forests, fisheries, climate and energy, air pollution, water resources and agriculture.
The 2018 EPI report highlights how countries are making positive changes, but they need to extend these efforts. In particular, countries should protect human health from the negative impacts of air pollution, increase efforts to meet globally established standards in the 2015 Paris Climate Change agreement and ensure habitat preservation for the world's species.
Let's look at the highest scoring countries overall in 2018.
BOYCOTTING
Switzerland's EPI Score: 87.42
Sustainability highlights for Switzerland
Switzerland was one of the top five countries making swift headway towards the UN's Sustainable Development Goals in 2017. Zurich, Switzerland also ranked first on the Arcadis Sustainable Cities Index in 2016.
In the EPI, Switzerland has impeccable water sanitation (99.99) and a water resources (99.67) scores. Switzerland also ranks second overall for climate and energy and air pollution with scores above 90 in those categories.
How can Switzerland improve? 
Switzerland doesn't competitively rank for biodiversity and habitat coming in 62nd place with a score of 84.2.
FRANCE
France's EPI Score: 83.95
Sustainability highlights for France
France is home to the world's most sustainable food system according to the 2018 Food Sustainability Index. France implements eco-friendly farming, reduces food waste and promotes access to food.
France ranks in the top ten for air pollution (4th place), agriculture (6th place) and biodiversity and habitat (8th place). It also achieved scores above 90 for air quality (95.97), water and sanitation (97.22) and water resources (95.56).
France ranks and scores low when it comes to forests (63rd place) and fisheries (66th place).
DENMARK
Denmark's EPI Score: 81.60
Sustainability highlights for Denmark
Denmark is home to Ørsted, which was recognized as the most sustainable renewable energy company in the world and the fourth most sustainable company overall in the 2019 Global 100 index. Copenhagen also scored second place in the Global Destination Sustainability Index.  
Denmark scores over 90 in four categories: air quality (99.16), water and sanitation (97.78), biodiversity and habitat (94.48) and water resources (98.45). It also ranks in the top ten for agriculture at seventh place.
Denmark's two greatest areas for improvement are forests with a ranking of 94, and fisheries with a ranking of 87.
MALTA
Malta's EPI Score: 80.90
Sustainability highlights for Malta
Malta is a leader for water conservation and home to the Għajn National Water Conservation Awareness Centre in Rabat, winner of the European Sustainability Award for 2019.
Malta ranks number one with a score of one hundred for both water sanitation and water resources. It also scores above 90 for air quality (94.4) and environmental health (93.8). It's ecosystem vitality score also ranks sixth overall.
Malta's weaknesses include its ranking for heavy metals (92nd), agriculture (74th) fisheries (72nd) and air pollution (61st).
SWEDEN
Sweden's EPI Score: 80.51
Sustainability highlights for Sweden
Sweden started its energy transition all of the way back in the 1970s and was home to the first ever UN conference on the environment in 1972. It was also recognized by the 2018 RobecoSAM sustainability index as the top sustainable country. Three of its cities also ranked in the top ten of the 2018 Global Destination Sustainability Index: Gothenburg (1st), Upsala (5th), and Malmö (6th).  
According to the EPI, Sweden ranks first for heavy metals with a score of 100. It also scores above 90 in three other categories: water resources (98.49), water and sanitation (96.88) and air quality (92.84). It also ranks third for climate and energy with a score of 86.8.
Sweden has a low ranking for its forests at 126th place with a score of just 5.53, which may come as a surprise due to its sustainable reputation. In fact, it carries out unsustainable logging practices. It also ranks relatively low for fisheries (80th) and biodiversity and habitat (75th).
UNITED KINGDOM
The United Kingdom's EPI Score: 79.89
Sustainability highlights for the United Kingdom
The UK made interesting headway this year for its progressive stance on fashion, which aims to give tax incentives to sustainable fashion brands and penalties for fast fashion.
The UK scores number one for its water and sanitation at a score of 100. It also ranks in the top ten for water sanitation (4th), biodiversity and habitat (4th) and heavy metals (9th). The UK also has a high score for air quality (94.43).
How can the United Kingdom improve?
The UK ranks rather low for its forests and fisheries at 122nd place for both and scores of 6.9 and 42.16, respectively.
LUXEMBOURG
Luxembourg's EPI Score: 79.12
Sustainability highlights for Luxembourg
Luxembourg has recently used its influence in the financial sector to accelerate global sustainable investment.
As one of the world's smallest European countries, it comes as no surprise fares relatively well. It ranks fifth for both water resources (99.76) and biodiversity and habitat (96.54). It also scores above 90 for water and sanitation (99.3) and air quality (93.62).
How can Luxembourg improve?
Luxembourg can improve its ranking for forests (77th), climate and energy (52nd), agriculture (50th) and air pollution (49th).
AUSTRIA
Austria's EPI Score: 78.97
Sustainability highlights for Austria
Austria has strong environmental policies, such as its International commission for the Protection of the Danube River (ICPDR). It protects and conserves the waters of the Danube River and its tributaries that flow from four other countries.
Austria ranks third for agriculture (71.34), while its scores for water resources (99.08), water and sanitation (94.43), biodiversity and habitat (91.69) and heavy metals (91.08) are all above 90.
Austria's opportunities for greatest ranking improvement are its forests (54th) and air quality (49th).
IRELAND
Ireland's EPI Score: 78.77
Sustainability highlights for Ireland
Ireland declared a climate emergency this May and it was the first country in the world to divest from fossil fuels in 2018. Here's how it fares in the EPI.
Ireland scores first place for its water and sanitation at 100 points. It also scores above 90 for environmental health (95.92), air quality (95.78) and water resources (91.19). It's fisheries and agriculture almost made it to the top ten at 11th place with scores of 71.14 and 61.94, respectively.
Ireland can rank better when it comes to forests (116th) and climate and energy (72nd).
FINLAND
Finland's EPI Score: 78.64
Sustainability highlights for Finland
Seven Finnish companies have been included on this year's Global 100 index for the most sustainable corporations and Helsinki ranked 5th among the most sustainable tourist destinations on Earth.
Finland ranks first place overall for environmental health (99.35), water and sanitation (100) and heavy metals (100). It also ranks sixth for air quality (99). It also has a very high score for water resources (97.01).
Finland's forests are the area of greatest improvement, as it ranks 124th in this area. Like Sweden, Finland is heavily involved in the timber industry trade, which negatively impacts its large boreal forests. It can also improve its air pollution, which is ranked 91st.
HEALTHY HUMAN PRODUCTS MENTIONED
16oz Stein Bottles
21oz Stein Bottles
32oz Stein Bottles
12oz Cruiser Tumbler
20oz Cruiser Tumbler
32oz Cruiser Tumbler
Healthy Human supports a sustainable future for our planet on all countries. Join us by proudly toting one of our reusable water bottles or tumblers.
Hoffner, E. (2011, Dec. 1). Sweden's Green Veneer Hides Unsustainable Logging Practices. Yale360. Retrieved from https://e360.yale.edu/features/swedens_green_veneer_hides_unsustainable_logging_practices.
Wendling, Z. A., Emerson, J. W., Esty, D. C., Levy, M. A., de Sherbinin, A., et al. (2018). 2018 Environmental Performance Index. New Haven, CT: Yale Center for Environmental Law & Policy. Retrieved from https://epi.envirocenter.yale.edu/.
https://www.weforum.org/agenda/2017/03/countries-achieving-un-sustainable-development-goals-fastest/
https://images.arcadis.com/media/0/6/6/%7B06687980-3179-47AD-89FD-F6AFA76EBB73%7DSustainable%20Cities%20Index%202016%20Global%20Web.pdf?_ga=1.71605779.1092158827.1473747355
https://www.weforum.org/agenda/2018/11/france-is-most-food-sustainable-country-u-s-and-u-k-faltering
https://orsted.com/en/Media/Newsroom/News/2019/01/Orsted-is-the-worlds-most-sustainable-energy-company
http://www.corporateknights.com/reports/global-100/
https://www.energywateragency.gov.mt/news/malta-winner-european-sustainability-award-2019/
http://www.sustainlife.se/Sustainability.html
https://www.robeco.com/en/insights/2018/12/sweden-remains-the-worlds-most-sustainable-country.html
https://www.businessoffashion.com/articles/news-analysis/uk-takes-aim-at-fashions-sustainability-problem
https://www.austria.org/guarantees-sustainability/
https://www.bbc.com/news/world-europe-48221080
https://www.sustainablenation.ie/