How to Create Your Own Turkey Trot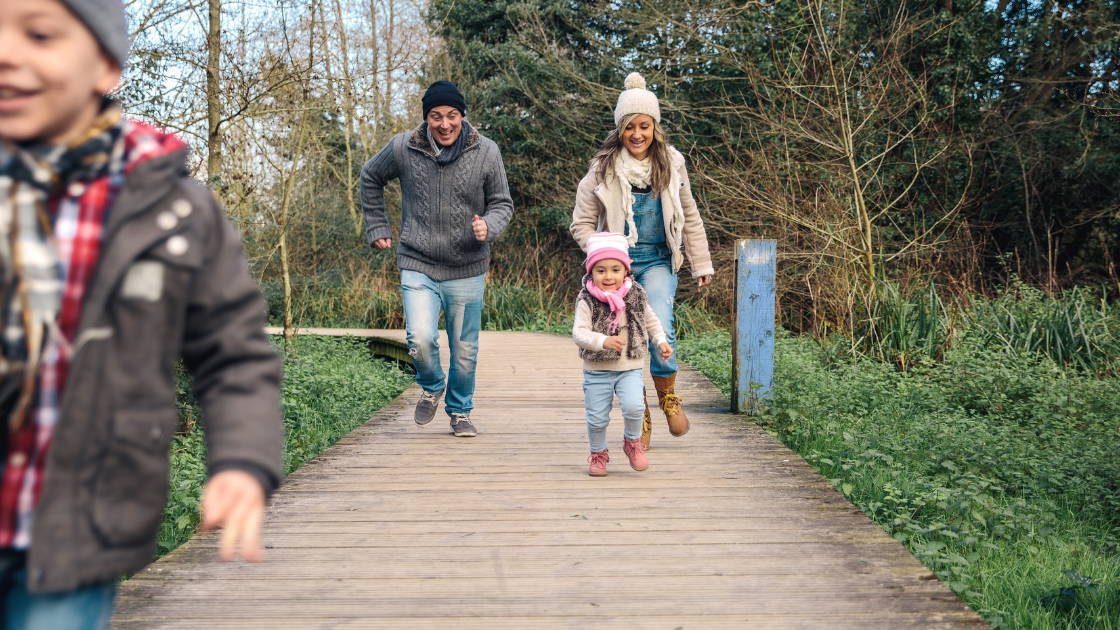 Communities across America usually have Turkey trots planned as part of their Thanksgiving festivities. But this year, fewer people want to attend large gatherings due to Covid-19.
So, why not organize your own Turkey Trot? You can create a fun run just for a small group to celebrate with some physical activity and healthy competition.
What is a Turkey Trot?
A Turkey Trot is a community race for runners or walkers of all ages. It's usually about 5k in distance, and many people wear costumes to make the event more entertaining. Planning a Turkey Trot is a great way to help your community burn off calories from their Thanksgiving meals, which can reach about 5000 calories. Turkey Trot organizers usually donate their proceeds to local community charities. For a small event, everyone can still pitch in for a donation, or if it's just your family, you can promise to donate a certain amount, so everyone still feels like they're running for a purpose.
How to Organize a small Turkey Trot
Get buy-in from the family
When you're starting small, the biggest challenge is getting everyone excited about the idea. Be sure to generate excitement for it by planting the seed in everyone's mind early on. This way, they can help you plan and bring the activity to life.
Choose a route for your turkey trot
Plot the correct distance for your race. Many communities make their runs a 5k, but it's up to you how long or short you want to make it.
Choose a wide enough path with space for everyone to keep their distance. To make it even more fun for the kids, consider including some obstacles for them to pass along the way like hurdles or a few quick turns.
Give it a clever name your family will enjoy
You might want to name your Turkey Trot after your street, neighborhood or community. You can also name it after a local hero, a local team mascot or a famous landmark in your area. This way, you'll know what to call your event for years to come.
Let the neighborhood know you're hosting a run
Make sure everyone knows that you're planning to host a run, so they can either participate or cheer from the sidelines. This also helps keep the event safe.
Use your turkey trot to fundraise for a cause
The great thing about organizing a community event like this is that you can also support a local cause. Perhaps your area has a food bank that is experiencing high volume due to the economic instability brought by the pandemic. Or maybe you want to support cancer research because you've lost a loved one to cancer. The people in the race will feel excited to be running for a purpose.
Select favors for each participant
If you're hosting a small event, consider giving the winner of the race a memorable gift like a Healthy Human vacuum insulated water bottle to celebrate.
And remember that not only the winner, but all participants should receive a for participating in the event, so make it fair by giving everyone an affordable gift. Other gift ideas include our Cruiser tumblers and our water bottle sling.
Ask for volunteers to help
It's important to have enough people available to make sure the runners know where they're going. Ask your volunteers to time the runners, serve water, and post the winners on an announcement board. There's a role for everyone to play, even if they're not running in the race.
Create an event page for your turkey trot
For a small scale event, you can set up your own Facebook event page and use it to confirm attendees. This way, you can post photos and share comments before, during and after the event.
Set up for the race
Take safety precautions to ensure that everyone will remain healthy, safe and cared for during your event. Include a clear starting and finish line with guideposts along the way. Give clear instructions, so everyone knows what to do and where to go. And make sure you have all of your supplies ready including fresh water to keep everyone hydrated.  
The day of the event
Direct runners to the starting line, and kick off the race. Time the runners and write down their finish times in order. Give people their favors at the finish line and remember--everyone's a winner!
Organizing a community event like a turkey trot brings your friends and community together for a fun, healthy reason. Plus, when you use your donations to support a good cause, everyone feels great about attending. Remember to play it safe this year in terms of social distancing. Otherwise, your turkey trot will help keep everyone active during this cake and cookie-loaded season.
HEALTHY HUMAN PRODUCTS MENTIONED
16oz Stein Bottles
21oz Stein Bottles
32oz Stein Bottles
12oz Cruiser Tumbler
20oz Cruiser Tumbler
32oz Cruiser Tumbler