Healthy Thanksgiving Recipes That Won't Disappoint Your Family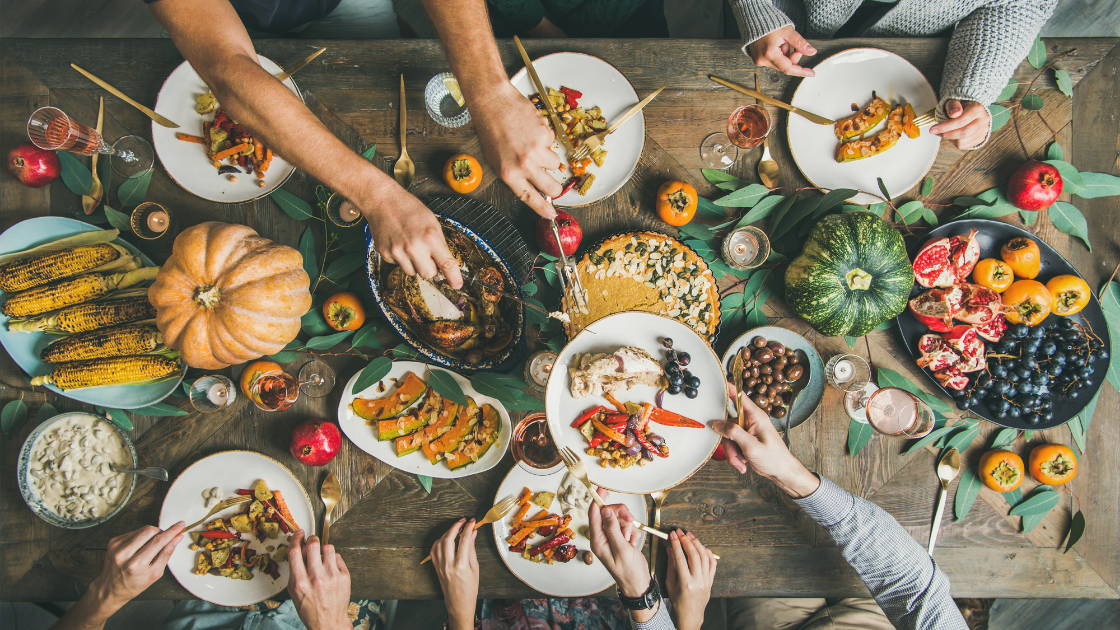 Whether you're planning to have a gathering or just a small dinner this year for Thanksgiving, choose these healthy recipes for a delicious feast. Fortunately, you don't have to sacrifice flavor for health and nutritional benefits.
Cutting back on processed foods and refined sugar and flour is a great place to start. Then, adding loads of fresh, organic vegetables, herbs and ingredients will give your meal an incredibly rich flavor. Here are our recommended recipes for creating an exquisite menu that will satisfy your craving for lighter, more wholesome ingredients.
Healthy Thanksgiving Tips
Thanksgiving comes once a year, so this year make it memorable with some surprising healthy recipes that will impress your family.
Keep these tips in mind for making it an authentic meal made from fresh, local and healthy ingredients:
Avoid processed foods
Use fresh, organic ingredients
Avoid saturated fats
Use whole grains
Shop for local, seasonal vegetables
Healthy Thanksgiving recipes for the main course
Lighter roast turkey with fresh herbs
This herb roasted turkey recipe has few ingredients, and they are all fresh. Most of the flavor derives from the blend of fresh herbs and the natural juices of the whole turkey in the oven. Fresh citrus and onions give the turkey unique zesty aromatics that brighten the flavor of the meat.
Roast turkey breast with a garlic herb butter rub
For small gatherings, it's perfectly acceptable to prepare roast turkey breast only. You'll cut back on unnecessary calories when you pass on the thigh meat. Choose this delicious garlic butter and herb rub recipe to make a mouth watering serving of meat.
Caramelized onion gravy
This delicious vegetarian gravy has less sodium than traditional gravy and it comes loaded with the unbeatable flavor of caramelized onions. It gets its nuanced dark flavor from unique additions like soy sauce and balsamic vinegar.    
Vegan whiskey mushroom gravy
Looking for something truly original to add to your Thanksgiving meal? Look no further. This vegan gravy recipe with mushrooms and whiskey includes no butter and just a touch of olive oil, so you'll greatly minimize your fat intake, without the loss of flavor.
Classic herb stuffing
For stuffing, the difference is in the details. Don't settle for refined flour in your bread or minimal doses of vegetables. Do stuffing the wholesome way with fresh herbs and vegetables and whole grain bread. Enjoy this classic stuffing recipe done right.
Cornbread "kush" stuffing recipe
This recipe by the famous food historian, Michael Twitty, honors the roots of soul food. This delicious dish is stuffing with a southern twist. The cayenne pepper and cornbread to enhance the texture and flavor of standard stuffing. For added nutrition, use fresh vegetable broth with plenty of fresh aromatics like celery, carrots and onions.
Healthy Thanksgiving sides
Healthier mashed potatoes
Traditional mashed potatoes are already pretty healthy. Fresh potatoes contain Vitamin C, Fiber and Potassium. However, they are also high in carbs and we usually use butter in the recipe, which includes saturated fat. Here are some healthy alternatives for your recipe, such as using olive oil instead of butter and adding steamed cauliflower to your mash, to improve the nutrition and reduce the carbs.  
Raw roasted carrots with fennel
If there's one abundant local ingredient you've probably forgotten to include in your Thanksgiving most years, its fennel. Add some to a side dish of roasted carrots this year for some incredible flavor and nutrition. Plus, you can't go wrong with roasted vegis. Try the recipe and enjoy!
Sweet potatoes with coconut milk and greens
With such a versatile vegetable like sweet potatoes, there's no need to make casserole every year. This year, try switching up your side. Just add greens and coconut milk to your recipe for a delicious side that will whet people's appetite and leave a memorable aftertaste reminiscent of Thai food.  
Fresh and healthy green bean casserole
When most Americans think of green been casserole they picture a can of mushroom soup and funyon style onions loaded with preservatives. Take the high road this year and use fresh ingredients in your recipe. To get add health and the taste of fine dining to your meal, use Alton Brown's recipe for green bean casserole. It includes fresh onions coated in panko break crumbs.
Cranberry sauce with natural sweetener
Replace the refined sugar in your cranberry sauce with honey or maple syrup for a healthier side. This simple four-ingredient cranberry sauce recipe is packed with the zest of fresh citrus. Add even more zest by grating fresh ginger into the pot as it cooks.
Sautéed brussels sprouts with bacon and onions
This classic side will provide even more helpings of delicious fresh vegetables. By adding only a touch of bacon to her recipe, local food loving chef Alice Waters brings this seasonal vegetable to life.  
Healthy Thanksgiving desserts
Seasonal dessert smoothies
Consider skipping the pie crust and drinking your dessert this Thanksgiving. Create delicious blends that you can serve directly from our Healthy Human Cruiser tumblers for an original, delicious alternative to those heavy cakes, cookies and pies we associate with the holiday season. Plus, by taking your dessert to go, you can enjoy the end of your meal on a fun outdoor hike through the leaves. Here are a few of our favorite recipes:  
However you choose to celebrate Thanksgiving this year, we wish you a safe, healthy holiday filled with family and friends, even if that means remote meetings on Zoom.
HEALTHY HUMAN PRODUCTS MENTIONED
16oz Stein Bottles
21oz Stein Bottles
32oz Stein Bottles
12oz Cruiser Tumbler
20oz Cruiser Tumbler
32oz Cruiser Tumbler