Kathy Davis of Veginspired on her Plant Based Diet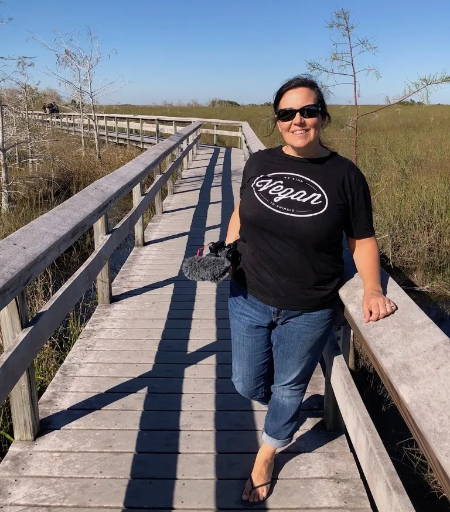 We interviewed vlogger and blogger Kathy Davis on her path to becoming vegan. Read how this sparked a chain of adventures and lifestyle changes for her that go way beyond food.
Kathy shares loads of recipes, tips and information on going vegan on her website VegInspired.com. You can also find her recipes and cooking techniques on her VegInspired Youtube channel and delicious food images on Instagram: @veginspired.
She also lives and works full-time with her husband and their three cats in a Grand Design fifth wheel RV. Learn more about her on-the-go lifestyle on Inspiredwego.com or visit them on Instagram: @inspiredwego. Even their cats have an Instagram: @wearecampercats.
She inspires others to live a healthy lifestyle while traveling all over the continental United States.
As part of our Healthy Human Brand Ambassador interview series, this interview highlights the inspiring actions of one of our community influencers.  
(Note: This interview has been edited for length and clarity. Scroll down for links to all resources mentioned in the interview.)
---
We [Kathy and her husband John] started VegInspired in February of 2015 and we were just immersed in all the information about plant based eating: the books, the websites. I had a Pinterest board that was all about vegan food. Once we felt like we got the gist of it, I wanted to share our journey.
When we decide on content for VegInspired, we try not to preach about going vegan. For the most part my passion is inspiring other people to add more plants to their diet and make easy swaps by choosing a plant based option versus an animal based option.
I guess the process was a little unique. I was full-on omnivore. I ate meats and cheeses and burgers. Those were the things I thought I'd never give up.
But the pivot point for me was this. My best friend, my maid of honor, had thrown me my bridal shower. We had it at her mom's house and her parents had cows in the backyard. They had just had a baby calf.
This was probably five or six months after we had started exploring this plant based diet. We went out back and saw the baby cow and I was like, "that cow's being grown up to eat." And then I was like, I'm vegan, I'm done.
I'd spent six points dipping my toe in it, and then within minutes I was making the connection that I didn't want to do that anymore. And that was pretty much it.
VegInspired baked sweet potato with black beans, avocado and a side salad
We eat a primarily whole food, plant based diet for health, but we adopted a vegan lifestyle. Like I always tell people, I'm not on a 100 percent whole food, plant-based diet. I might have a glass of wine later, but I'm 100 percent vegan.
Primarily, we eat whole foods, whole grains, mostly unprocessed foods for health, but we are vegan for the animals and the benefit of the environment.
I'm a huge taco fan. Taco Tuesdays are really everyday. When we first went plant based, we tried every combination of fillings we could come up with. We tried mushrooms and potatoes. And they were all good, but I really wanted that texture, where the flavors really seeped in.
Then we stumbled on black lentils, and so we have a recipe on our blog with the bulgur lentil taco filling. We call them "The best vegan taco filling." They're texturally perfect and the flavor's awesome. We make up our own spice blend, and everyone that has tried has loved it, even non-vegans. So, I would say that tacos are my favorite.
VegInspired Best Vegan Taco Filling
We shop primarily at Whole Foods, even with traveling. And we primarily buy organic. Whole Foods has an organic and non-GMO line that's their store line, which is typically less expensive than another grocery store's high-end line.
Now, if there were a local farmer's market around here that sold fresh-grown local vegis, we certainly would support them. We found some really cute farmer's stands on our travels.
When we were in Pittsburgh, we received a community supported agriculture (CSA) organic box once a week during the peak growing season. That really helped us get creative with our meals.
We started using turnips, and we got excited about cooking with beets. We learned that you could use cabbage just like a crunchy topper pretty much on anything.
So the current world situation [the COVID-19 pandemic] aside, we would normally get groceries for two weeks and then have a weekend off of getting groceries and then drive in the following weekend.
We plan a pretty detailed menu plan, so we know what ingredients we want. When I menu plan, I put the meals that we're going to eat that use the most perishable produce first, and then kind of stretch it out from there.
So we're definitely rationing more ingredients, or we're stretching them out. Instead of using the entire green pepper, we might use 3/4 of it for a recipe and then use 1/4 of it to flavor something else.
Lately, because we don't have storage space, we've been primarily eating rice and farro, but we use bulgur for the tacos. So we figured that we could have that cooked up and then mix it with our rice to stretch out the rice.
And that's a great way for somebody to try a new grain, like if they're not sure if they like farro.
Kathy in Asheville, North Carolina, viewing the Smoky Mountains
Eating a vegan, plant-based diet allows for purchasing bulk and fresh produce. And I'm not perfect, we're definitely not zero waste over here. We buy tofu, and that's in plastic and things like that, but you can make conscious, educated decisions.
A store like Whole Foods has a good bulk section, or you can buy larger quantities. And I think just by eating more plant-based and more whole ingredients, because we aren't eating a lot of processed foods, that reduces the amount of waste.
It also opens up this air of confidence almost. If I can make changes like lifestyle and diet changes, I can use my reusable cups, I can set the habit to use my reusable bags.
And then the obvious non-secret that's been out on the research on climate change—that eating less animals is better for the environment.
Pair your plant-based meals with these delicious drink recipes:
First of all, it's amazing. Absolutely incredible. It was the best decision that we ever made to do this. April 13th will be 18 months (a year and a half) since we've moved into the camper.
The excitement of moving into the camper to travel the U.S. really overshadowed the challenges. I mean, it's a small space, but the little slice of home on wheels has everything we need.
We have space-saving tricks. We have these really large windows and that lets in a lot of light and opens up the space. In our routines, we try to get ourselves outside. We go on walks, we utilize outdoor space whenever we can. And then you know, living and working full-time, 24 hours 7 days a week, with your spouse--we have to have good communication.
One little secret to all of this: living full time in a camper at campgrounds, where people are typically in vacation mode, definitely requires some discipline. It requires the ability to say no and the ability to prioritize.
Kathy's fifth wheel RV Home
I thought we would miss a lot of stuff when we downsized. But I think now we could probably go through the camper and even downsize some more.
People wonder how could you get rid of so much stuff. You just don't miss it once it's gone.
I never really considered myself a minimalist. But I think the less is more concept really shines through in all of this and that was unexpected to me.
A lot of routine and a lot of goal setting. It's the routines and the goal setting that really make or break this kind of a lifestyle. I mean, there've been days when I'm just scrolling through Instagram for two hours.
So, while this life can feel like a constant vacation, having routines is important for both of us.
Kathy and her husband John at Everglades National Park
Will-travel-for-vegan-food is definitely a thing. Traveling life would not be complete without exploring the different restaurants in the cities that we visit. We've explored Savannah, Georgia, and dined at some really great restaurants.
We rode our bikes around Asheville North Carolina, and then we also went on a self-led bar and restaurant crawl around Asheville. They have over 80 breweries. That was awesome.
One of our first adventures on the bikes was in Everglades National Park. They have a 15-mile tram road at the Shark Valley visitor's center and we saw over a hundred alligators. Right there along the bike trail, they're just sunning themselves.
In December, my parents gifted us the National Park pass and a book that you can get the stamps of the different parks, so we've challenged ourselves to visit the National Parks on our adventures as well.
I got my first Healthy Human Stein, the 32 oz Stein, after winning a giveaway. And it was just so different from all of the other ones I had.
And so, I'd been following the company on social media, so I looked a little bit more into their philosophy and they're more focused on sustainability. And I really love that their mission is Live Life Healthy because that was really why we'd switched to this plant-based diet. I just felt like it was a company that I could stand behind.
I'm excited to share their products with friends and family and followers and I'm excited to represent the brand, because I just feel like it's focused on the right things in a time when that's what we need to be focused on.
With VegInspired, I hope to create a space that inspires people to eat more plants even if it's just for a once a week meatless Monday meal or another initiative that they can jump on. Maybe they eat plant-based for breakfast, or plant-based for lunch, or they simply just eat a new vegetable every week.
And regarding travel, I want to see the beauty of our country. There are so many places on my really long must-visit list. I'm just excited and grateful to be able to pack up the camper and drag it to the next destination and see where our wheels take us.
Yes.
Little miss positive pants. Always looking at the bright side of things.
I will be outside enjoying the beautiful earth.
It's living a life where you're focused on feeling good—living a balance of good food, staying hydrated, moving and exercising, getting enough sleep and taking time for yourself—health care and mental health care.
My 20 oz seamist green Cruiser Tumbler. I love it.
My Healthy Humans have been to Everglades National Park, Biscayne National Park and Seahorse Key, a private island off the gulf coast of Florida that's only open to the public a few times a year. And they've witnessed both sunrises and sunsets.
HEALTHY HUMAN PRODUCTS MENTIONED
16oz Stein Bottles
21oz Stein Bottles
32oz Stein Bottles
12oz Cruiser Tumbler
20oz Cruiser Tumbler
32oz Cruiser Tumbler
Tell us where you take your Healthy Humans on Instagram using hashtag #TakeItWithU.
Remember the best companion to any dish of vegan, plant based food is an eco-friendly Cruiser Tumbler.
Get your own Cruiser Tumbler and a complimentary metal straw for drinking smoothies, juice blends and refreshing flavored water.