What is Co-branding? Learn How we Partner with Brands for a Shared Purpose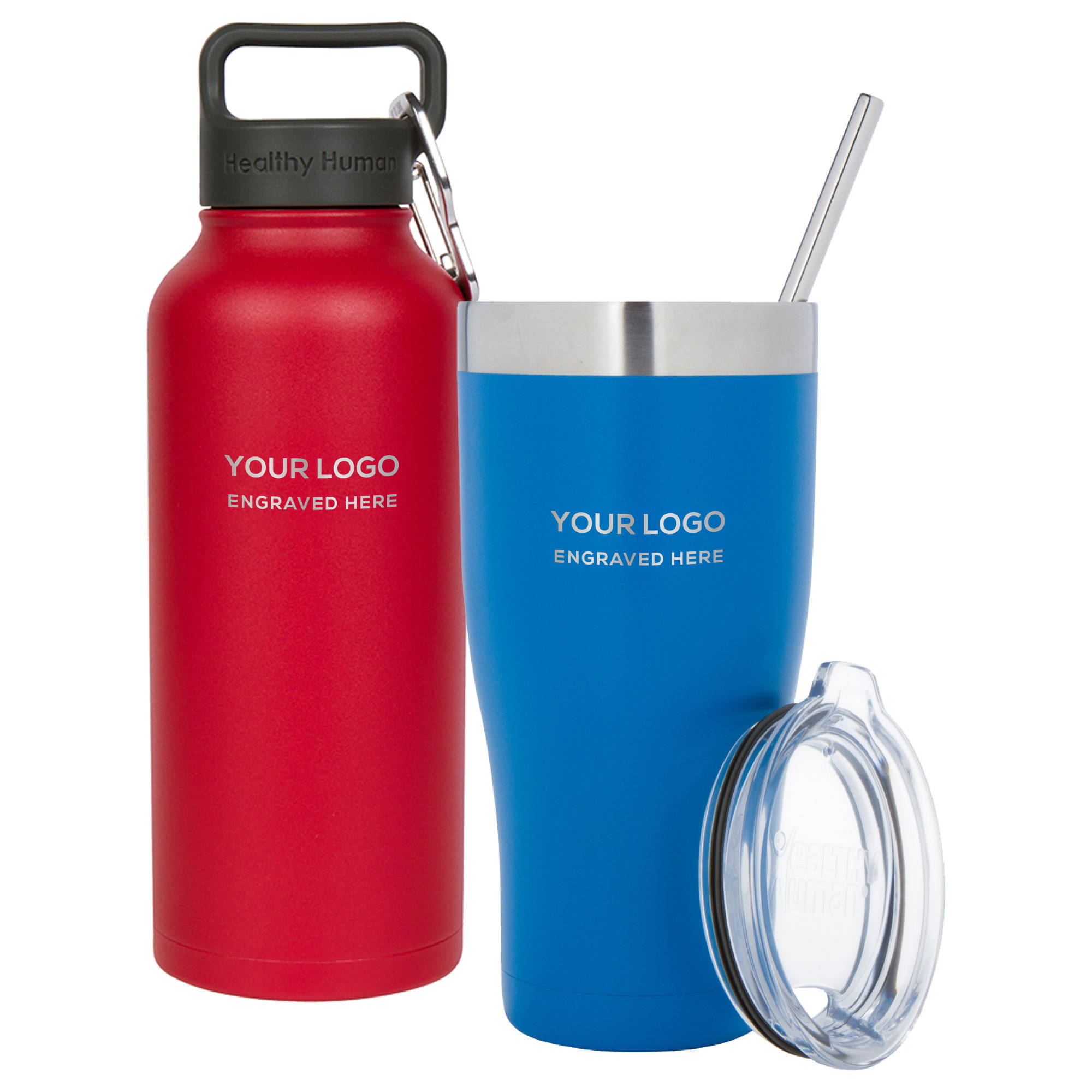 When brands come together to collaborate, magic happens. Ideally, both brand partners benefit. Beyond just adding one brand's label to a product made by another company, brand identities mingle to create a stronger purpose and message. In this post, you'll learn how we go about co-branding the Healthy Human way.
Tip: Scroll to the end of the post for a list of suggestions for reasons to use our co-branded products.
What is co-branding?
On the surface, co-branding is a simple branding strategy in which a product carries the logo of two different brands. Sometimes this means creating limited edition color schemes on products or flavors for foods. The exclusive nature of the product brings both brands forward in the minds of their customers. Suddenly, the brands appear fresh and updated. It gives a new spin on otherwise recognizable brands.
What are the benefits of Co-branding with Healthy Human?
At Healthy Human, we've made co-branding easy. Our bottles and products can easily become the canvas for your brand's logo. When you place an order for our products, you'll convey an important message about reducing plastic pollution and encouraging healthy living:
Show that health matters
Hydration is one of the building blocks of overall health. But it takes dedication to drink enough fluids day-to-day. Our bottles and tumblers help others meet their daily needs.  
Share our zero waste mission
When you choose to co-brand with Healthy Human, you automatically sign up to spread awareness about single-use water bottles, coffee cups and coffee lids.
Share our fantastic designs
Every detail of our products is designed for durability and comfort. Thanks to Tempmax vacuum insulation, our bottles and tumblers keep hot drinks hot for 12 hours and cold drinks cold for 24 hours. Our products become well-loved companions for work, travel and adventure.  
Inspire small actions that add up
When customers swap a Healthy Human water bottle for single-use plastic bottles, they can save about 137 plastic bottles per year from going into landfills or our oceans.
Share our customer satisfaction
Beyond our excellent products, Healthy Human is known for its customer service. By listening to our customers and understanding their needs, we have earned their trust.
How does co-branding with Healthy Human work?
Here's the step-by-step process for developing custom co-branded products with Healthy Human. The process starts with a simple online inquiry form.
Choose a model, size and color from our inventory.
Enter the product details and upload your logo on our online inquiry form.
Check the product proof, estimate and confirmation we send you to finalize your order.
We create the product and send it to you.
One of the ways our co-branded custom products preserve their authentic appearance is our unique laser engraving process.
With the option to engrave your logo either horizontally or vertically, you can further customize the look of your products. The Healthy Human logo will appear on the opposite side of the product.
The result? Your logo won't at all look like an afterthought. It blends seamlessly into the design of the product, creating a memorable reminder of your brand that people can take everywhere.
Great ways use our co-branded products
Here are a few examples of ways that healthy human co-branded products can enhance your event, organization or celebration as either a product or a gift:
Outdoor festivals and concerts: For both attendees and vendors at music festivals, minimizing waste is crucial. Sell refillable co-branded bottles or tumblers at your beer, smoothie or coffee stand.
School-wide zero waste initiative: Give your teachers and students a chance to show their school spirit while reducing waste at school or on campus by co-branding our water bottles.
Convention organizing: Hosting a convention with lots of attendees who will need to drink hot beverages throughout the day? Create custom Cruisers in an attractive color.
Wellness retreats: Focus on self-care, wellness and mindfulness while emphasizing the importance of hydration with our co-branded water bottles.
Team-building events: Productivity gets a boost when people are well-hydrated and caffeinated. Put your company logo on our bottles or tumblers to hand out to the team.
Celebrate work anniversaries or milestones: Give your employees a memorable high-quality stainless steel water bottle or tumbler for reaching a milestone.
Sustainable gift box pairings: Sell our co-branded bottles or tumblers in a sustainable gift set with your products.
Club or sports team souvenirs: For active and fit groups that depend on hydration, our co-branded bottles are a must have item.  
Ready to co-create? Design your own unique products with a low minimum order of 48 pieces.
HEALTHY HUMAN PRODUCTS MENTIONED
16oz Stein Bottles
21oz Stein Bottles
32oz Stein Bottles
12oz Cruiser Tumbler
20oz Cruiser Tumbler
32oz Cruiser Tumbler