The Best Stocking Stuffers for a Healthy, Happy Holiday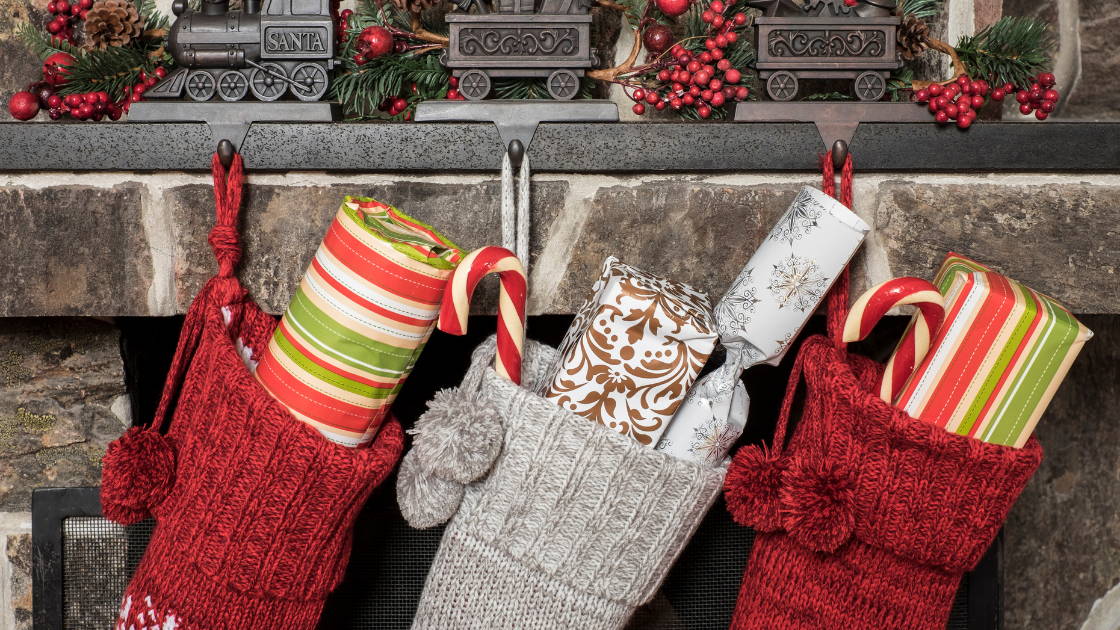 Besides receiving big boxes under the Christmas tree, everyone loves to receive stocking stuffers. These little gifts can make a huge impact, because they're small but mighty.
This year, we recommend curating your stocking stuffers so that you ensure a sustainable, healthy and budget-friendly holiday. At Healthy Human, we promote healthy living through the small actions that add up over time. This can mean creating a wellness routine or cutting back on single plastic waste. Every action creates a chain effect of positive deeds.
Keeping this in mind, here are some quick tips to consider before you go all out on your shopping spree.
How to choose the best stocking stuffers
Choose refillable or long-lasting refillable gifts that promote a zero waste lifestyle. This can be anything from a pen with refillable ink cartridges to a reusable face mask.
Pick healthy gifts that help prevent illness. We know that everyone has a huge stock of hand sanitizer in the cupboard, but you can help others stay well this year with comforting gifts like immune boosters, sleeping masks and massage rollers.
Find healthy gifts that help people stay active. Hand weights, meal planners, jump ropes and of course Healthy Human water bottles to help others stay hydrated are thoughtful presents for any athletic, active individual.
Get creative with inexpensive DIY gifts. Stocking stuffers are often small and inexpensive, but they definitely add up. Fill those stockings with wonderful healthy homemade treats.  
Read on to find our favorite stocking stuffers to surprise your friends and family with the perfect gift for their lifestyle. We've done our best to break down the list to fit the personality and interests of your loved ones.
Stocking stuffers for men
For the athlete
Healthy Human 16oz Stainless Steel Stein Water Bottle - $24.99
Slide a super durable and lightweight vacuum insulated water bottle into the stocking of the man in your life who loves sports. He'll love this high quality and easy-to-carry water bottle sold at a great price compared to similar bottles.
For the outdoors and adventure lover
BioLite's Lightweight Headlamp with a USB Charger - $44.95
Help your outdoorsman light the trail and recharge his headlamp with a USB charge. If you have a bigger budget, check out all of BioLite's plug-free, power generating equipment.
For the tech and gadget lover
Tile bluetooth key and valuables finder - $34
This small gadget is great for finding things that you value. You can connect it to your wallet, keys or even a small child to help you find your most important objects using a bluetooth wireless signal within a 400 foot range.
For the home body
Acorn Slipper Socks - $50
These ragg wool socks with a flexible suede leather sole are perfect for guys who spend lots of time feeling cozy at home.
For the workaholic
Everyman Grafton Pen - $39
This long lasting refillable pen takes cartridges from a wide variety of pen brands, so your man can fill it whenever he needs to. He can jot down notes longhand to keep all of the moving parts of his life in order.
For the handyman
WalletNinja 18 in 1 Multitool Card for your wallet - $13.99
This multitool slides right into a men's wallet and provides excellent support whenever needed for measuring, fixing glasses, opening bottles, cans and boxes or screwing nuts and bolts.
For the bearded man
Beardbrand's Old Money Beard Oil - $29
Treat your friend, husband or dad with this fine beard oil blend by Beardbrand that will allow him to maintain his beard and feel luxurious.
For the man who's always late
Timex Men's Expedition Scout 40 Watch - $30
This stylish water-resistant watch has a durable fabric strap and arabic numerals to help the man in your life tell the time.
Stocking stuffers for women
For the wellness enthusiast
The Tea Spot conscious cleanse organic teas - $29.95
Try this incredible tea collection for cleansing the toxins from your body. The set comes with organic hibiscus, morning cleanse and turmeric tonic teas.  
For the selfie queen
Isarora Ice Roller for Face and Eyes - $21.99
For anyone who loves to take lots of selfies to post online, it helps to stay fresh for the camera. This ice roller cools down in the freezer and takes away puffiness and even headaches in the morning.  
For the active mom

Healthy Human Cruiser 20 oz Cruiser Tumbler - $24.99
Our vacuum insulated tumbler comes with a metal straw and a lid so it's ready to take on the turns, bumps and spins of an active mom's lifestyle. It's a great way to stay hydrated with hot tea or cold smoothies and everything in between without having to worry about spills. Choose from loads of different colors.
For the DIY diva
Williams Sonoma Basic Cookie Cutter Set - $9.95
For the makers in your life, you know they'd love to have a classic set of cookie cutters so they can create colorful cookies each year for the holidays.
For the eco-friendly friend  
Healthy Human 3-piece Metal Straw Set
One of the simplest ways to cut back on unnecessary plastic waste is to use reusable stainless steel straws when you order drinks to go. This 3-piece metal straw set is the perfect stocking stuffer for anyone who cares about the planet.
For the multi-tasker
2021 Skinny Happy Planner - $24.99
These planners are skinny enough to slide right into a stocking. They are filled with inspirational drawings and sayings that will keep every multitasker motivated to take on project after project.
Stocking stuffers for kids
For the ball of energy
Juggling for the Complete Klutz Set - $14.99
Help your kid learn how to juggle with this set of three balls and instructions. This will give them hours of high energy entertainment.
For the arts and craftsy kid
Eco-stars recycled crayons - $18.00
These star-shaped crayons will entertain your kids by giving them fun drawing tools to create drawings with recycled colors.
For the mental gymnast

Cubebot multicolor wooden robot - $10
This sculptural toy can be shaped into different poses including a cube. Give your thinker endless possibilities with his or her Cubebot.
For the tipsy toddler

Eco-dough for planet friendly play time - $16
Kids love to mash, squish and shape play dough, but not all dough is created alike. This natural Eco-Dough is made with dyes from fruits and vegetables.
For the newborn baby
Organic cotton mushroom rattle
This precious rattle toy will make your baby happy while keeping him or her safe from unwanted microplastics thanks to its organic cotton fabric exterior.
Stocking stuffers for teens
For the gamer
Do Not Disturb Me Gaming Socks - $9.59
For feet that don't lie when it comes to your game obsessed teen.
For the image obsessed teen
Jade facial massage roller in rose quartz - $15.99
Give your teen this popular facial self care tool to roll over their face when they're relaxing at home.
For the techie
Reusable ProCase tech screen cleaning pads 4-pack - $10.99
Teens who love to use their phones non-stop may want to use these cleaning pads to keep them clean and germ free.
For the social butterfly
Game of Phones scavenger hunt game to play with phones and friends
Teens will love trying out this game with friends to share what their phone reveals about them.
Still need more ideas? Here are a few more categories that we think you'll love.
Eco-friendly stocking stuffers
Bite Fresh Mint toothpaste bits - $30
Give this great four month subscription of toothpaste without the tube. Your zero-waste loving friend will enjoy having an alternative to regular toothpaste that helps them reduce waste.
Plant-based plastic free eco cleaning brush set - $29.99
Who wouldn't love to use brushes with wooden handles and natural bristles to clean their wares at home? This beautiful set of brushes will help your friends and family ditch plastic.
Heart shaped shampoo bar from Love, Beauty and Planet - $4.99
This popular shampoo bar is a perfect stocking stuffer for keeping your loved ones' hair shiny and healthy without the plastic bottle. The heart shape looks adorable in the bathroom.
Inexpensive stocking stuffers under $10
Tie dye Welly adhesive bandages - $7.99
You can help your loved ones keep their cuts and scratches safe with these stylish adhesive bandages decorated with tie dye in a variety of colors.
A large air plant - $4.95
Give the gift of a living plant that's super easy to take care of. You can perch this plant on your night stand or a piece of found driftwood. Kids and adults alike will love taking care of their new plant.
Old Whaling Co. bath bombs - $7
Winter is the perfect time to sink into a relaxing bath scented with these magnificent bath bombs. Choose from unique scents like seaberry and rose clay, coconut milk, and French lavender.
Healthy stocking stuffers
EO French Lavender Travel Hand Sanitizer Spray - 6 count - 23.94
Help others stay free from germs that travel on surfaces. These small giftable hand sanitizer sprays are safe for the hands with all organic ingredients.
Clif Energy Bars - about $1 each
Sporty people who love the outdoors or need a quick energy fix during the day will always appreciate a Clif Bar in their stocking.
Pro-Tec Spiky massage balls for athletes - $9.95
For athletes and runners who often need to work out the knots and tension in their muscles, these spiky massage balls do the trick.
DIY stocking stuffers
A Spotify playlist with the most memorable tunes from your adventures together
Home sewn scrunchies or reusable fabric facemasks
Holiday spice granola made the old fashioned way
Small mason jar terrarium from plants in the yard
DIY crocheted or paracord water bottle holders 
Papier mache Christmas ornaments shaped like woodland creatures
T-shirts with iron-on lettering for your family's nicknames
Gift satchels filled with sweet healthy snacks
Happy Shopping!
Giving something extra as a stocking stuffer doesn't have to be expensive, wasteful or unhealthy. Keep your spirits high by giving creative gifts that fit the personality of your family and friends.
But also try to search for health- and planet-conscious gifts that everyone can enjoy. We encourage you to think "outside of the box" to make your holiday as healthy, cheerful and wonderful as ever.